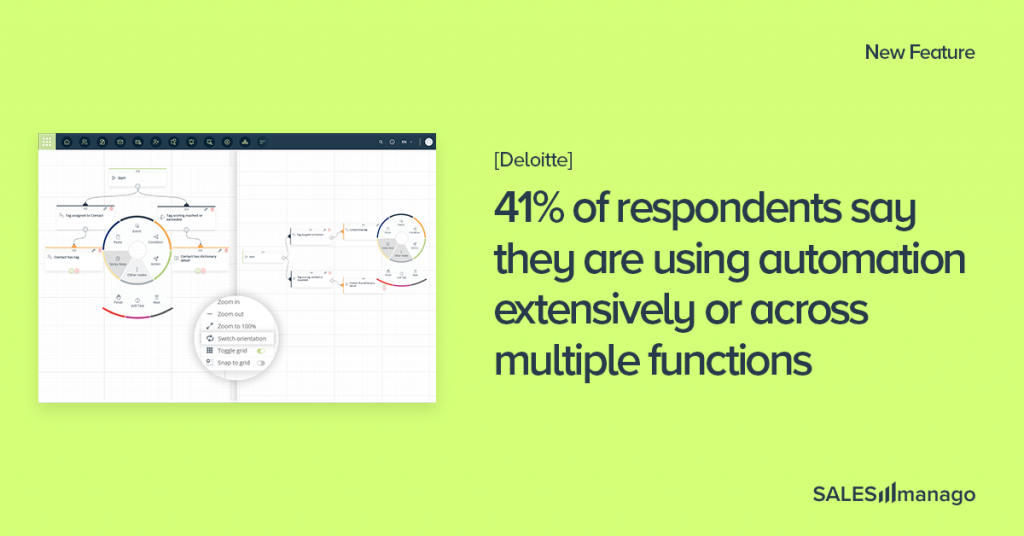 Break free from the confines of a traditional funnel-driven approach and look as your relationship with customers develop from their perspective! Instantaneous transition from funnel to a customer journey-focused perspective, and aligning your marketing efforts with the dynamic paths customers take on their purchasing journey was never so easy and intuitive. And collaboration inside the marketing team in the process – never so effortless. All in one console, in real time.
Customer-centric, cooperative, built for real time marketing
We designed our latest Workflow automation console to solve a series of eCommerce marketing painpoints, while having in mind Lean Marketing principles:
A single hub for automated scenarios.
Fragmentation of Martech stack and overreliance on IT are major painpoints of modern eCommerce marketing. This is why we unified 8 existing automation wizards into a single one.
The most intuitive interface for customer-centric Workflow design.
One of the Lean Marketing rules emphasizes the importance of delivering only the experience which drives the most value to the customer and company alike. Such an attitude requires a customer-centric view – breaking free from funnel vision and starting to think like a customer journey designer. Meanwhile, complicated interfaces of most of the existing Worklfow automation tools do not make it particularly easy to feel like a designer. We changed this, providing you with the most intuitive interface possible.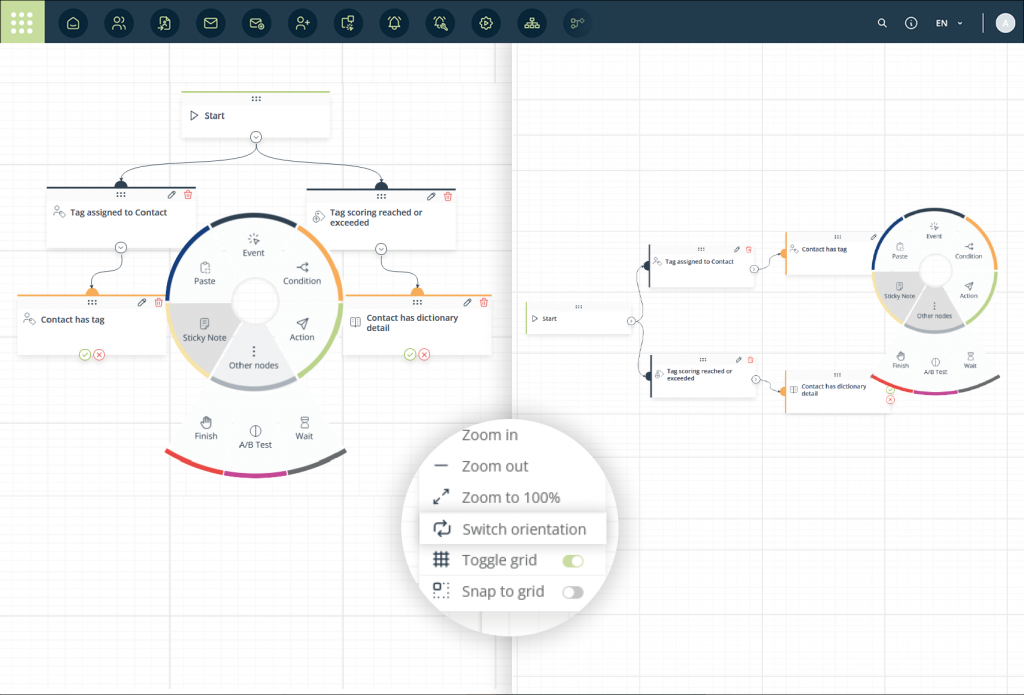 Easily switch between funnel-driven and customer journey-focused approach
Seamless collaboration inside the marketing team
Other Lean Marketing rule point to the importance of the focused collaboration of the team members, with daily stand-ups included. Such cooperation should be easy and effortless while designing and activating customer journeys. Lossless communication, for example, is especially important in sharing best practices. One of the standout features of our new Workflows is the ability to easily copy and reuse the best-performing parts of your automation processes. This capability allows marketers to capitalize on what works best for their business, enhancing efficiency and consistency.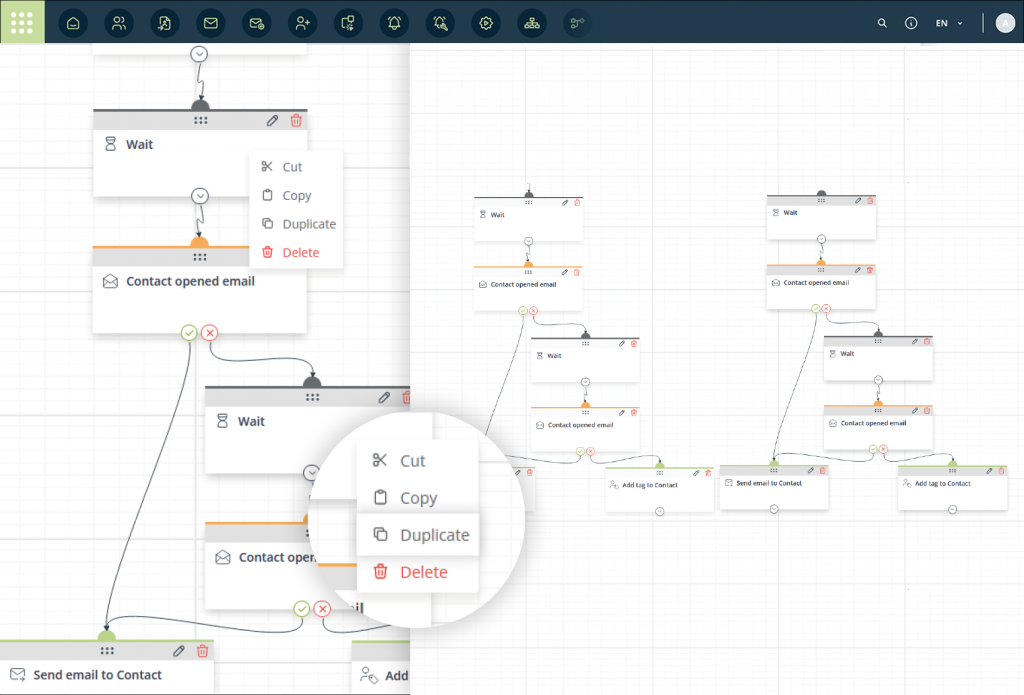 Copy and reuse entire workflows, as well as their components, in no time
Enhanced flexibility, reduced time of creating scenarios.
Lean Marketing should also be understood as achieving results in the most efficient manner. In our opinion, Martech tools should reflect this notion. In the Unified Workflow Console feature, you will find a number of facilities and useful options which reduce the time of journey creation process. In addition to completely new, smooth and intuitive design itself, we provide you with copying individual and multiple Workflow elements, context menu, flexibility with the orientation of the flow, and keyboard shortcuts.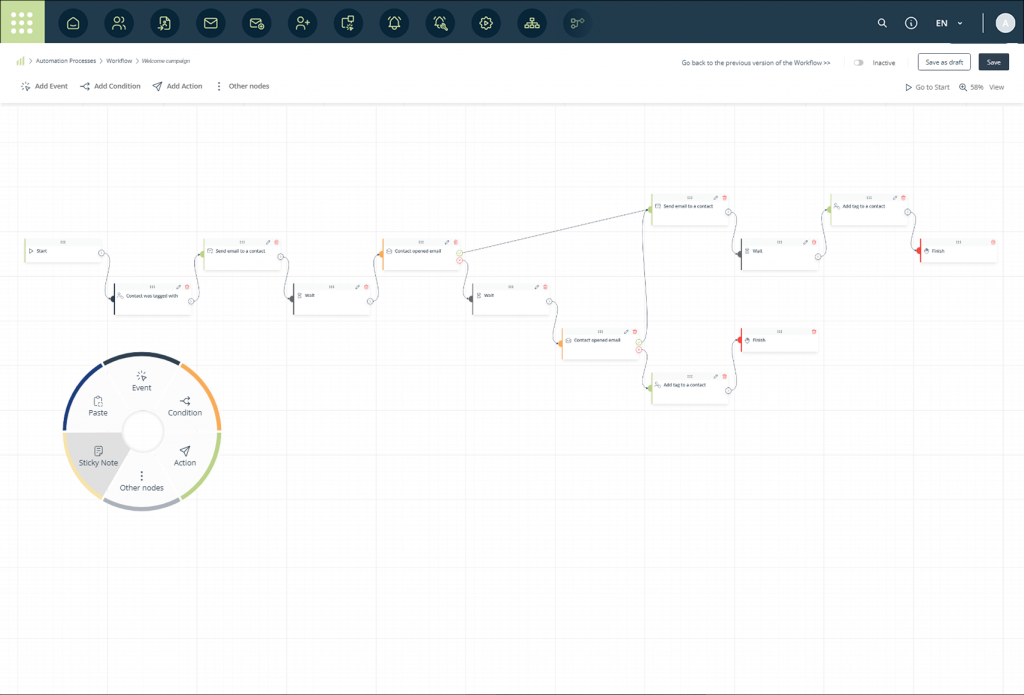 Intuitively create advanced workflows with events, conditions, and actions
Real-time marketing
Lean actions should be taken immediately, to respond to ever-changing customer needs. Near-real time marketing is not good enough anymore. Built with the latest Angular, Unified Workflow Console is not only safer than older tools, but also fast enough to enable real time marketing.
Unified Workflow Console use cases
Here are some ideas on how to use Unified Workflow Console in your daily work:
Cart Abandonment Recovery: Set up automated workflows to re-engage customers who abandoned their shopping carts. Make it easier to organize messaging chronologically by switching to horizontal orientation. This can have a significant impact on revenue by recovering potentially lost sales.
Cross-Selling and Upselling: Implement workflows that deliver targeted customer data-driven offers and recommendations based on customer behavior and preferences. Set them up to react in real time for the best results. This strategy can lead to increased average order value and revenue.
Win-Back Campaigns: Set up workflows to win back inactive or lost customers. Re-engage them with targeted messages and incentives designed to reignite their interest and bring them back to your brand. By re-engaging them with targeted messages and incentives, you have the opportunity to regain their business and boost revenue.
Product Retargeting: Target and re-engage customers who have shown interest in specific products. By delivering personalized messages and offers, you can increase conversions and drive repeat purchases.
Effective Loyalty Program Management: Automate loyalty program management to reward and engage loyal customers. By creating tailored workflows that deliver exclusive offers, rewards, and personalized communications, you can foster customer loyalty and encourage repeat purchases.
Customer Onboarding: Create personalized onboarding workflows to ensure a smooth and engaging customer experience. Enhance it with Customer Data to craft the unforgettable experience for new customers. This tactic sets the foundation for long-term customer satisfaction and repeat business.
5 steps to success with Unified Workflow Console
Workflow is one of the most convenient ways to introduce marketing automation to your eCommerce.
Achieve Marketing Mastery with Intuitive Workflow Creation: The intuitive workflow creation allows you to effortlessly build advanced processes, automating complex campaigns and maximizing your marketing and sales effectiveness. Elevate your strategy with ease, effortlessly build advanced processes.
Switch Optics in Seconds: Break free from the confines of a traditional funnel-driven approach. SALESmanago's upgraded Workflows empower you to switch optics in seconds. Transition to a customer journey-focused perspective, aligning your marketing efforts with the dynamic paths customers take on their purchasing journey. Design customer journeys, not sales funnels!
Enjoy Seamless Performance for Optimal Results: The incorporation of the latest Angular technology ensures seamless and secure operations. Benefit from lightning-fast speed and enhanced security, driving optimal results with efficiency and confidence.
Copy and Repurpose Workflow Success in Seconds: The ability to effortlessly copy and reuse Workflow components allows you to accelerate your campaigns. Streamline your work, reduce errors, and optimize your automation efforts for impactful results that propel your business forward. Be lean and impactful.
Fuel Processes with CDP Data: Supercharge your processes with the power of customer data. Workflows integrate seamlessly with Customer Data Platform (CDP), enabling you to leverage valuable insights for personalized and targeted communication. Unleash the potential of data-driven automation and achieve better results with every campaign. Deliver precise omnichannel execution.
Unified Workflow Console: Wrap up
In a world where lost productivity and poorly managed leads cost companies over $1 trillion annually, the implementation of automation software emerges as a saving grace, enabling businesses to reclaim a significant portion of these losses, as highlighted by the CMO Council. As we journey forward, it becomes evident that automation is more than just a trend—it is a vital component for businesses striving for success in the digital landscape.
So, join us on this immersive exploration as we unveil the secrets of Unified Workflow Console and delve into the captivating world of workflow automation. Discover the power of intuitive workflow creation, effortless switching between funnel-driven and customer journey-focused approaches, seamless performance, and the ability to copy and repurpose workflow success in seconds. Elevate your eCommerce marketing strategies with the integration of Customer Data Platform, enabling you to unleash the power of customer insights and craft extraordinary customer experiences. With the Unified Workflow Console, you hold the key to unlocking efficiency, driving results, and orchestrating omnichannel success in your eCommerce endeavors.